For
Canadian

shipments please go to vrsupplies.ca


preparing your vacation rental property



First and foremost, why start a vacation rental? What are property owners earning?
According to HomeAway aka VRBO in their 2014 vacation rental report, more than half (54%) of property owners cover at least 3/4 of their mortgage by renting their home to travellers. On average, HomeAway vacation rental owners charge a weekly rate of $1,520, generating an average annual income of $27,260.
Some property owners use the income to finance their own travel adventures. Many simply want to cover a few basic costs and may rent out one room a week here and there, while others, roughly 19%, expect to cover all of their expenses as well as profit. If you want to learn more, simply click on their REPORT.
How do I prepare my property for guests?

De-Clutter - Remove excess personal items. Keep a few locked areas to store your belongings. Remove anything irreplaceable or valuable.

Repair & Replace - It's time to go over your property inside and out to make sure everything works and that nothing is damaged or broken. Your property does not have to be in pristine condition, but you must never leave guests with a home in disrepair.

Equip - Supply your kitchen with enough flatware, glasses, plates, etc… for double the number of people the rental can sleep. Dining and living spaces must also accommodate all possible guests with enough comfortable seating. Replace old mattresses and pillows and make sure bed frames are solid. If you offer twin or double sized beds, it is highly recommended that they are 80 inches long. Note bed sizes below.

Hotel Linens & Towels - Renters may overlook an older couch and weathered patio furniture, but they are less tolerant when it comes to sleeping and bathing. Beds must be comfortable, clean and fresh, and bathrooms need to be spotless.

The best way to achieve this is to supply ample amounts of quality bedding and towels. And yes, do yourself and your future guests a favour and purchase (minimum 3 sets per bed) white hotel quality sheets and towels, they're tried and true, and consistently available, making them easy to replace and simple to manage and maintain. See sheets and towels HERE.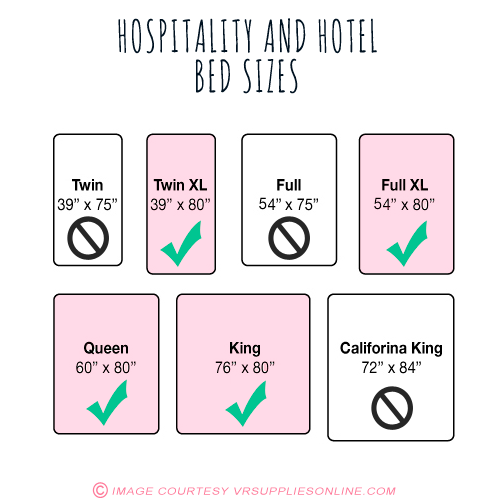 Bed Sizes - Along with the dimensions shown above, standard mattress depths range between 12 to 14 inches. The most popular bed size used in the hospitality industry is a queen, next, a king. Twin XL are very popular in the bed and breakfast industry since they easily convert to king. The least popular bed is a full/double bed, considered too narrow by many travellers (couples).
Extras - Typically most well-lived-in homes already have everything a traveller needs. The best rule of thumb is to offer what you were using yourself, from your washer and dryer through to your high speed internet, books, games, television and so on. Even a well equipped junk drawer supplied with everything from batteries to scotch tape goes a long way toward creating happy guests. Leaving non-perishables such as sugar salt and other dry goods is always appreciated. A basic first aid kit is highly recommended. Make sure your fire extinguisher and smoke detectors are operational and up to date.

As for extras, a waste paper basket in each bedroom and bathroom is a good idea. A laundry basket in each bedroom may keep wet towels off the floor. A hotel luggage rack will save your furniture from luggage scratches. Sharpen or replace knives, replace such items as BBQ brushes, hangers, toilet brushes, just to name a few.

Stepping it up a notch would be to offer mini hotel shampoos and conditioners, and disposable make-up removers are a nice touch, and will save your towels.


How do I promote my vacation rental?

Marketing - The upside to our global connectivity is that marketing your vacation rental could not be easier. First and foremost invest in good images. Set up your space as it should look at check-in and be sure to use a high-resolution digital camera. If you're not great as an image editor, then just click away and simply choose from the best. You should have at least 25 good images in your repertoire. Write up a few catchy paragraphs about your home's positive and unique attributes.

If you have an entire home available on a regular basis then VRBO.com is the go-to site. If you have a room or space available here and there, then be sure to check out AIRbnb.com. Flipkey is another good site, and of course your local websites can offer great exposure. Most of these sites prompt you throughout the process and make it very easy to get set up.

Reviews - As a follow up to your marketing, you must fully appreciate that your vacation rental will only succeed if your guests are happy. Reviews can make or break your venture. The best way to acquire positive reviews is to be very sure that you are providing what you are selling and that you are priced accordingly. Always make personal contact with your guests by phone or in person; once before they book, and again after they check-out. Also make sure they have local 24-hour contact information in case they need anything. The bottom line is: on occasion, things can (will) go wrong, from a mouse in the pantry to a leaky dishwasher. It's how you handle these situations that matters the most.
What must I consider before getting started?

Sales Tax - Whether or not to charge tax depends on where your VR is located. It is very important to contact authorities and become aware of your obligations.

Insurance - Most home owner insurance policies do not cover your home if you offer short-term (under 30 days) rentals. In fact, some policies could be voided altogether, leaving you completely exposed. This is somewhat new for many Insurance companies, so be prepared to shop around. If you live at the property you may be covered under B&B policies, otherwise you may need to purchase a commercial policy for your property. Try these folks, endorsed by VRBO

Bylaws - As a result of the rapidly growing "sharing economy" phenomena, thousands upon thousands of vacation rentals are being advertised all over the world. Most cities however do restrict - and some even disallow - "short term" (under 30 days) rentals in residential zones.

Our observations tell us that many cities rely on these bylaws to protect neighbourhoods from unscrupulous property owners. Bylaw officers will, undoubtedly enforce these ordinances if/when a neighbour files a complaint. This in turn empowers your neighbours greatly, and places the onus squarely on you to be extremely thoughtful and considerate when deciding the sort of guests you intend to accommodate, and for how long.

Price Point - From a marketing standpoint, any property has the potential to become a vacation rental. The question you must answer, however, is: How much revenue can my property realistically bring in, and how much will it cost me to do so? Finally, is it enough money to make this worth my while? The easiest way to research this is to find comparable properties on VRBO.com, Airbnb.com, or on local "vacation rental" sites. Be sure to carefully check their calendars and reviews.
My first guests start arriving next week what do I need to do?


A welcome letter about 2-4 days prior to arrival is a must. It can include special instructions, driving directions, and even a copy of particulars such as rules or tips on what to bring. Note: sample forms from "contracts", to "welcome letters", are all available on VRBO and Airbnb.

If someone is not available to greet your guests at check-in, then be sure to provide the phone number of a local contact; someone needs to be available in case they need anything. Please make sure keys are easy to obtain and leave the front lights on in case they arrive late.

Provide Instructions for your guests - every property has it's own idiosyncrasies that vacation rental guests appreciate knowing about; from tv remote-control instructions to recycling procedures. Also provide any rules that need to be adhered to.


How should I manage housekeeping?
Many vacation rentals do add a "cleaning fee" and travellers have accepted this practice as the norm. The fee can range from $50 for a one-bedroom condo up to $300 for a lakeshore estate.

The best approach for your venture and your guests is to do at least some of the cleaning yourself, as long as it's manageable. One way to keep it manageable is to have (minimum) three sets of sheets per bed, and 6 sets of towels per person; then send them out to be laundered. Paying $1 – $1.50 per item is reasonable, noting that some laundries charge by weight. By handling much of the work yourself you become keenly aware of what needs replacing or repairing.

Cleaning companies are professional, well organized, and bring their own supplies, but they do find it tricky to accommodate your random schedules and will often charge a premium. Sometimes finding independent part-time help can work. But do note: these workers will need you there for direction and supervision, and they do not bring their own supplies. For more support please visit VR Services Directory.
Need more guidance?

Best resource in our opinion - Join this group